HOME
Velgraf Group
BEC
Velgraf USA Inc.
Velgraf Turkmenistan
Velgraf Consultants
Vodno Stroitelstvo
Vodokanalproekt-Chisti Vodi
Hydrostroy
Gasenergocomplect
Interatomenergo
Informinvest Jsc
Transstroi Varna
David Holding
Tehnos
Technoimpex
Velgraf CANADA
Cons. Bulturkstroi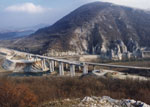 Transstroy Varna AD was established in 1904.
The expertise of TRANSSTROY VARNA AD covers the following fields:
Transportation facilities: railway and road bridges, viaducts, subways, rail and road tunnels;
Hydraulic structures: river and sea ports, ferryboat complexes, sailing canals, pier walls, seashore and riverbank structures, abrasion and erosion protection, etc.;
Railway construction: new railway lines, railway automation, railway stations as well as related structures and installations, capital and supportive repairs of railways;
Airport construction of any type as well as related structures, installations and individual elements.

The Company is leading constructor, in Bulgaria, of all kinds of marine and river ports, with their adjoining buildings, crane mechanization, power supply and other engineering communications. The Company has build shipbuilding and ship-repair yards, dry dock chambers, marine ferry complex, Black Sea Coast protection against abrasion,with 160 groynes have been constructed, as well as coastline-protective walls, sandy beaches, underwater moles, etc.
Transstroy- Varna S.A. completes a range of projects of the railway construction: construction and doubling of railway lines and their electrification, construction of passenger and deviation railway stations, renovation of lines, etc.
Projects implemented in Bulgaria:
Water treatment plants (Golden Sands resort, Balchik);
Protection weir Balchik-Albena;
Seashore stabilization (Shabla, Kavarna, Byala, Kranevo);
Roadstead station (Varna port);
Landslide protection (Sunny Day Resort, Nessebar);
Dual railway line Karnobat-Sindel and its electricity network;
Rehabilitation of railway lines;
Rehabilitation and extension of the Regional Transport Hospital, Varna;
Apartment houses - 9 units;
Projects assigned by large companies in Varna.
Projects implemented abroad:
Transtroy Varna AD has carried out different types of projects in Jordan, Ukraine, Iraq, Germany, Russia, etc.
Among the major ones are:
Hoisting device for ship repairs, Aqaba Port, Jordan;
Roads Class A, Jordan;
Port Facilities, Reni Black Sea Port, Ukraine;
Telecommunication systems, Starokonstantinov, Ukraine;
Motorways and a by-pass road, Iraq;
Sports complexes, Nigeria;
Transport infrastructure, Abuja, Nigeria;
Brick factory, Kondopoga, R. Carelia (under construction)
You can find more information about the business and completed projects of Transstroy-Varna AD at the company's official web site www.transstroy-varna.bg.