HOME Velgraf Group
BEC
Velgraf USA Inc.
Velgraf Turkmenistan
Velgraf Consultants
Velgraf CANADA
Vodno stroitelstvo
Vodokanalproekt-Chisti Vodi
Hydrostroy
Gasenergocomplect
Interatomenergo
Informinvest Jsc
Transstroi Varna
Technoimpex
David Holding
Tehnos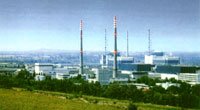 The BULGARIAN ENERGY COMPANY Inc. was registered in 2002 at the Sofia District Court, Company Register No. 464/2002. The Company is managed by Prof. Bogdan Ougarchinsky who is Managing Director.
The Company has the following specialized scope of activities:
Design, construction, exploitation and termination of exploitation of technological projects, related to the nuclear power cycle;
Construction and exploitation of new technological units in the field of generating electrical power;
Transferring and distribution of electrical power;
Commissioning, exploitation and termination of the exploitation of energy units;
Bulgarian Energy Company (BEC) extended the range of its activities in a new direction, namely the energy efficiency investigation of buildings and energy certification. Keeping abreast with the last changes in the Law of Energy Efficiency and the regulations arisen from it, BEC AD is amongst the first companies which received certificates (for registering and for accreditation) from the Sustainable Energy Development Agency (SEDA) for implementing energy efficiency investigation and building certification.
Bulgarian Energy Company (BEC) AD is among the first companies entered into the public register of the Sustainable Energy Development Agency (SEDA) of the persons that implemented certification of industrial facilities and it has a Certificate for accreditation issued by the Sustainable Energy Development Agency (SEDA) under No. СА-ОЕЕ-003/14 February 2006, by which it is given the right to perform energy efficiency investigation of industrial projects. The company is entered into the public register under No. 00003.

The main task of investigation is to establish energy consumption; the technology level and the management of the project; heat energy saving and heat preservation of the industrial project; conformity with the standards and regulatory requirements for energy efficiency; evaluation of the energy consumption influence over environment, taking into consideration harmful emissions into air, water etc.

The Bulgarian Energy Company has contracts concluded for joint activities with 12 Bulgarian and foreign companies in the fields of:
Construction of energy projects;
Export of electricity;
Import of spare parts and equipment for the needs of the energy sector.

Bulgarian Energy Company AD is a member of Cluster &quotSofia City of Knowledge&quot. The cluster includes 26 organization and companies. For more information see http://knowledgesofia.eu

The trade mark of &quotSofia City of Knowledge&quot is owned by &quotBEC&quot AD.

Contact address:


BEC
1000 Sofia, BULGARIA
8, Kaloyan str.,
Phone: (+359 2) 930 7550
Fax: (+359 2) 988 4833
bulgenergy.co@velgraf.biz